Wireless VR is upon us folks and the Oculus Quest will be one of the first truly wireless HMD's on the market at a price of $399 without those annoying cords! Of course the HTC Vive Pro will also have wireless capabilities but at a much higher starting price targeted at more of the hardcore gamer crowd, and the current Oculus Go is wireless but with overall lower specs. Granted the official move to wireless VR was just a matter of time and much needed in the space to move things forward.
The Oculus Quest will be a full standalone VR system with positional tracking and hand controllers. The Quest requires no PC, no wires, and no external sensors, not to mention 50 titles to start with for launch. Also apparently the tracking range is huge at 4000 square feet of space from what Barra described. Barra also mentioned porting games from the Rift to the Quest will be an easy feat, so we shall see.
Oculus Insight is the breakthrough technology that powers inside-out tracking, Guardian, and Touch controller tracking. This system uses four ultra wide-angle sensors and computer vision algorithms to track your exact position in real time without any external sensors.
The Oculus Quest will provide a display resolution of 1600×1440 per eye which is on par with the Oculus Go. Oculus Quest has also boosted their built-in audio with enhanced sounds and deeper bass. Overall, the Rift is still the most powerful which connects to a PC through a graphics card, while the Oculus Go is more affordable and easier to jump into VR, the Oculus Quest seems to be a nice fit in between the Go and the Rift.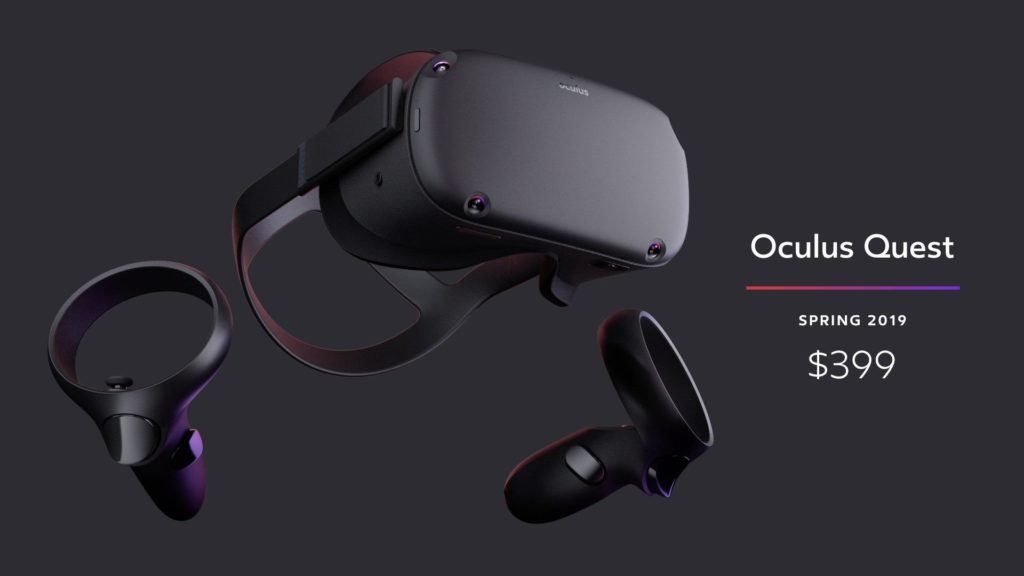 The Quest is definitely a good mid tier move for Oculus and most likely will bring in many new people to VR. Now that Oculus has 3 products with 3 different price ranges, it definitely paves the way for mainstream VR on their platform.
Another exciting note is the planned titles for the Oculus Quest, not just VR games but a broad variety of genres which should please most people. One of the big ones is the Star Wars Exclusive 'Vader Immortal' which is a VR series launching on the Oculus Quest in 2019. There's many more titles planned like a Dark Knight Trilogy, Call of Duty and Blade as well.