Tribeca Immersive Programmer Loren Hammonds scours the globe for a year to bring his festival the best VR experiences the medium has to offer. It's a feast too rich and enormous for one sitting, or even two. It's a privilege and pleasure to give yourself over to it. They've done all the work. It's as close to plug-and-play as VR could possibly be. No setting up your VR rig. No firmware updates. No expired certificates to service. No downloading enormous files for hours. Visitors just drop into the most compelling VR experiences on the planet. The Tribeca Immersive Arcade is open daily through April 28.
It is impossible to experience everything Tribeca Immersive has to offer in one visit. And it's popular. And most experiences can only accommodate one person at a time. If you're not attending the press event (and actually even if you are) bring your patience, expect to wait and accept that to see all 35 experiences you'll have to make several trips to the 5th Floor of the Festival Hub at 50 Varick Street. It took me over 5 hours to see half of the Festival's selections. That means it would take a normal attendee at least 10. To see half.
There were five experiences I'm going to give my "most awesome" accolade to. Three of them, "Hero", "Jack, Part One" and "My Africa" use "free roam" VR, in which a user dons a headset and an HP backpack PC and is literally able to walk around inside the movie, with full freedom and agency. My only complaint with these is that they are over way too quickly. The other two winners are from established studios, Penrose and RYOT, who both presented compelling, cinematic VR masterpieces, "Arden's Wake, Tides Fall" and "Battlescar". These are not to be missed. Get there early and rush to get your name on the list. Only eight people per hour can experience "My Africa". In the case of the 30 minute "Arden's Wake, Tide's Fall" only two people per hour can experience it.
Also on my list, in a category I'm going to call "Also Awesome", are Eliza McNitt's companion to "Spheres", "Pale Blue Dot", "Objects in Mirror AR Closer Than They Appear", "Lambchild Superstar", "The Dinner Party", "Campfire Creepers: Midnight March", and Owlchemy's ridiculously enjoyable "Vacation Simulator", a follow up to their smash hit, "Job Simulator", one of VR's best selling titles.
I was sorry to miss Laurie Anderson's "Chalkroom". Many were talking about it. "Where Thoughts Go", by Lucas Rizzotto, is set in a world where all human thoughts exist as sleeping creatures. I was bumped from "Queerkins" by a film crew (choosing TV over Forbes, imagine that!). I did a number of other experiences I don't have space or time to write up. Some weren't my thing, some kind of failed artistically, but at Tribeca even the misses are hits. You really can't go wrong. Taken as a whole, it's just that damn good. For this reason, I'm going to give the Festival itself the "Ultimate Awesome", because VR doesn't get any better than this.
"Jack, Part One" begins with a conversation with mom, a delightfully cartoony anthropomorphic frog, nagging you about daydreaming. You're Jack. From the fairy tale. You live in a treehouse, in a ramshackle forest community. And you're poor. Dirt poor. Using a technique called texture mapping, mom is played by an actress wearing a full body motion capture suit. You and mom are tracked in real time by 41 external cameras. Real objects like brooms, teakettles, railings and, ultimately, a giant bean, are brought into the drama, texture mapped to match the cartoon world you inhabit. Mom immediately shoves a broom in your hands puts you to work. Be careful you don't bump into the lone light bulb hanging from the ceiling. It's real. Soon enough, mom has to go out, but she leaves you with one simple job: sell a decrepit radio/cassette player from the 80s (remember those?) to a trader, a kookie bird played by the same actress, who soon arrives in a flying contraption. The trader asks to look at the radio and before you can say anything she casts off and tosses a giant bean to you in exchange. Mom is as pissed as you thought she'd be and tosses the bean out the window. Soon the floor begins to vibrate as the room is entwined by giant green vines and thrust into the air. As the roof is torn away you feel the wind and see the sky. When the shaking finally stops, you see an opening that leads to the cloud kingdom. When you walk through it, the experience is over. To be continued. I can't wait to see the rest.
The project is a collaboration between Paris based Mathias Chelebourg and VR animation studio Baobab, who met at the Venice Film Festival last year, where Chelebourg presented a magical VR version of "Alice in Wonderland", "Alice: The Virtual Reality Play", which also combined live actors with free roam VR. With Baobab Studios, creators of the early VR hits "Invasion!" and "Asteroids!" behind him, Chelebourg cooked up "Jack", which was rushed into production just three months ago.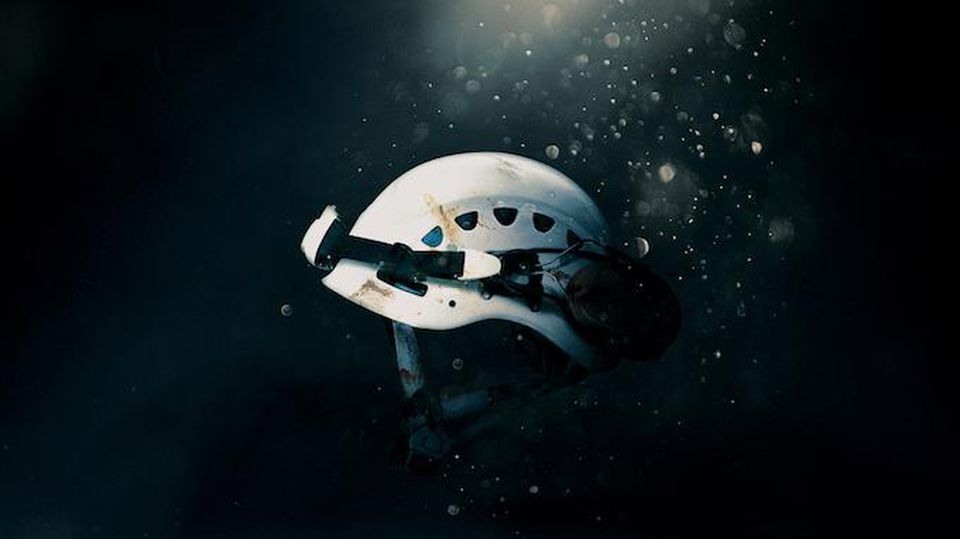 "Hero", the only free roam experience at Tribeca in competition, puts us in the center of a Syrian city to see what it feels like to be a victim of a barrel bomb. It's a harrowing experience of unspeakable violence and suffering. Why would human beings do this to one another? What does the Syrian government possibly have to gain by slaughtering its people? When the bomb goes off you are covered with debris. You go to help a trapped girl, and feel the heat of a fire and the urgency of the father. Co-creator Navid Khonsari told me he thinks "we've become numb, desensitized. Through this experience, we are able to make the distant personal." This is one of five experiences in juried competition for the Storyscapes prize. I saw three of the five in competition. With incomplete knowledge, I'm going to call this the winner.
"My Africa", presented by Conservation International, is narrated by Oscar winner Lupita Nyong'o, who takes us inside a Kenyan wildlife sanctuary where inhabitants live in harmony with nature while fending off lions, leopards, hyenas and the most deadly predator, poachers. The stereoscopic 360 cinematography, striking in its dimensionality, was captured on a relatively low priced Insta 360 pro, which the makers said was the only camera that could withstand the brutal heat and dust. One of the themes of this year's festival is how good high resolution 360 cinematography has become, and how dimensional its subjects feel. You feel like you can reach out and touch the animals and in the companion free roam VR experience, you can. In it you help to treat the orphan baby elephant featured in the first part, during which you are a passive observer. The two pieces taken together present a world so complete in its presence you feel a deep, moving empathy for the people and their struggle to live in harmony with nature.
Last year after viewing Penrose Studios' "Arden's Wake", I called writer/director Eugene Chung "the D.W. Griffith of virtual reality" for his masterful use of scale and perspective, which are two of the tools a VR director has to replace the tradition (or slavery, as Alfonso Inarritu says) of the shot. Chung's follow up to "Arden's Wake", "Tides Fall", takes us back to the "Waterworld" of the story, where humans cling to islands made of scrap atop flooded, decaying skyscrapers. Meena, beautifully voiced by Oscar-winning actress Alicia Vikander, searches in vain for her father, a drunk who's gone missing during a scrap dive. As "Arden's Wake" ended, Meena is swallowed by a sea monster. In the sequel, "Tides Fall", we learn the sea monster, which Chung named "Derie", is actually saving Meena, not eating her. Meena awakens inside the magical beast, which seems to be telepathically emitting an Emily Bronte poem while Meena relives and comes to terms with her tragic life and troubled father. I had a wide-ranging conversation with Chung and two of his key collaborators, technical director Jimmy Maidens and animation director Bruna Berford, after experiencing the thirty minute VR adventure-cum-melodrama. Never before and perhaps never again will I find myself talking about the 50s melodramas of Douglas Sirk, the endless tracking shots of Jean-Luc Goddard, and the stop-motion animation of Rankin-Bass in the context of a VR experience. Chung's inspirations are as wildly diverse and unexpected as "Arden's Wake: Tides Fall".
The final VR experience atop my personal leaderboard is "Battlescar", by French collaborators Nico Casavecchia and Martin Allais. Lupe, voiced by Rosario Dawson, is a runaway who gets swept into New York's 70s punk scene by a wild girl she meets in juvenile detention. The graphics and animation, the presentation of the drama as a dimensional dollhouse, full of cutouts and poetry, is entirely original and could only be done in VR. The ten-minute experience ends when it's really getting interesting. There was a lot of premature endings at this year's Festival and frankly, I'm a little miffed by it. Not to pick on "Battlescar. Everyone is doing it. Until VR really hits an inflection point, and there's a market for these incredible experiences, so no one can really afford to go all the way. Not even well-funded companies like Baobab and Penrose.
I was excited to see the follow up to Eliza McNitt's critically acclaimed "Spheres", which was picked up for distribution in a first of its kind seven-figure deal at the Sundance Film Festival earlier this year. "Pale Blue Dot" takes us through the solar system, past Saturn and Mars, volatile dead planets, to our vulnerable, verdant earth which we newcomers to the cosmos take for granted. McNitt's two VR experiences are destined to become a staple in education, ultimately replacing the planetarium.
"The Dinner Party", by Angel Soto, also from RYOT, tells the story of Betty and Barney Hill, an interracial couple who were reportedly abducted by aliens. After they relive their experience which we view sitting at real dinner table set, the guests don't stay for dinner. Soto's masterful use of 360 video and continuous tracking shots make the story go down a lot easier than the Hills'.
"Campfire Creepers: Midnight March", created by horror film director Alexandre Aja, takes us to Camp Coyote, where sadistic counselors take their charges on a midnight march that ends in the fangs of a werewolf. Aja brings Hollywood panache and exceptional production values to a classic campfire story so evocative you can smell the marshmallows. Aja described the technique to me as "real but not real". The surroundings, the set, the forest, are all rendered with a game engine, which makes them seem dimensional, while the actors are captured volumetrically. The experience is free in the Oculus store starting tomorrow, Saturday, April 21st.
On the lighter side were three experiences I could have spent a lot more time with. "Lambchild Superstar: Making Music in the Menagerie of the Holy Cow" was created by Chris Milk and Damian Kulash, the front man for the music group OK, Go, which is famous for its wildly inventive music videos. In this wacky experience, the user is encouraged to manipulate anthropomorphic animals to create their own song. "Objects in Mirror AR Closer Than They Appear", is a unique multimedia installation in which users wander among the kind of detritus one might find a hoarder's basement. By pointing a mobile phone built into an antique stereoscope many of the objects come to life. This is because they are augmented reality triggers that activate other media. In this way, an old Jello ad in a magazine triggers an old tv ad for Jello. Every object tells a story. Finally, Owlchemey's "Vacation Simulator" is just plain fun. Beach vacation with idiot robots? Count me in! It was the first thing I did. I wish it was the last because then I would have left with a goofy grin, instead of the feeling that someone was trying to kill me.
Yelena Ratchinsky, who runs the experiences group for Oculus Story Studios, put it another way: "Makers finally have the tools and the experience to make the tech a little bit invisible."
A full list of Tribeca Immersive's offerings can be found here.
Tribeca Immersive takes place in the Tribeca Festival Hub located at Spring Studios – 50 Varick Street. Admission to presentations of the Virtual Arcade featuring Storyscapes is $40.00. Screening tickets for Cinema360 screenings are $15. Tickets can be purchased online at tribecafilm.com/immersive beginning March 27 or by telephone at (646) 502-5296 or toll-free at (866) 941-FEST (3378).
Packages and passes are now available for purchase on the 2018 Tribeca Film Festival App on iTunes and Google Play.