If there's one thing that gets me excited, it's seeing Virtual Reality in the hands of filmmakers and creatives, especially for the first time. This coming October 13th and 14th, VR Society will be hosting "On the Lot" which will bring AR and VR to the iconic Hollywood Studio, the Lot. Last year "On the Lot" brought in over 1700 entertainment and production professionals from across the globe to Paramount Studios where many of the emerging technologies were presented. This year, VR Society is adding Augmented Reality to the conference and is already expanding their physical location due to the huge response from the Hollywood and Silicon Valley communities.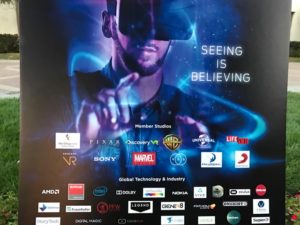 This years "On the Lot" will have a long list of talent including keynote speakers Roy Taylor (Vice President of Media/Entertainment AMD) Tony Parisi (Global Head of VR/AR at Unity) Gary Radburn (Director of Workstation Virtualization and Commercial VR/AR at Dell) and Oscar nominated producers Lauren Selig and Peter Martin to give a creative keynote "Seeing Your Creative Become Reality." Also adding to the mix will be John Moon of Honda to talk about "Driving AR Forward" and what Honda has planned for AR. Additional Speakers set for this years conference include Aaron Luber (Google), Rick Champagne (NVIDIA), Ravi Velhal (Intel), Marcie Jastrow (Technicolor), Wim Buyens (Barco), Bruce Vaughn (Dreamscape), Ted Schilowitz (Paramount Pictures), John Canning (PGA/NBC) and Mia Tramz (LIFE VR).
There will be panels as well for other VR industries such as Education, Healthcare, Retail, location based and Monetization. Also to throw in more names, Academy Award Winning Filmmaker and Founder of the Virtual Reality Company Robert Stromberg will be participating and Unreal Engine will be premiering "The Giant: Michelangelo's David" in VR to the public.
On Saturday afternoon October 14th, "On the Lot" is doing something really cool called "Meet The Investors", basically devoting a block of time for guests with companies in their first year of business to prearrange one-on-one meetings with Venture Capitalists and high-level execs. This could be a huge opportunity to pitch your business or even get funding for your project. Right now this industry is young and growing at an incredible pace, so interest is high and investment demand is ever increasing.
Exhibitors for this years conference will include, AMD Studios, Barco, Create VR, Dell, Google, HP, Nvidia, Intel, Koncept VR, Legend, LOOT Interactive, Lytro, Position, Sony Music, Technicolor, TIME Inc, LIFE VR, Unity, Unreal Engine, VRC and DTS. To say the least, "On the Lot" is packed full of industry leaders and professionals all focusing on the new technologies of AR/VR. As we all know, AR/VR is in it's early stages, so big props to VR Society for putting this conference together and moving our industry forward.
For tickets and more info visit VROnTheLot.com – Discounted ticket prices will be available for Oculus Connect attendees, all entertainment guild members (PGA, DGA, WGA etc) Students with student ID's and Seniors 62 years+.